Ich hatte mich schon einmal hier und da im sogenannten spontanen Realismus versucht. Spontanrealismus ( "plötzlich", "ohne bewusste Überlegung", "einem inneren Antrieb folgend" oder "für die Umgebung oft überraschend") ist eine Kunstrichtung, die von dem österreichischen Künstler VOKA begründet wurde. Ich finde die Technik und die Ergebnisse ungeheuer spannend. Und ich liebe Jazzmusik. Während meiner Studienzeit arbeitete ich oft abends und nachts als Kellner in einem Jazzclub und lernte eine ganze Reihe von  prominenten Jazzmusikern persönlich kennen. Fats Navarro ist übrigens keiner von ihnen, er ist 3 Jahre vor meiner Geburt gestorben. Ich könnte mir vorstellen, dass ich in Zukunft weitere Porträts von Jazzmusikern machen werde.
I had already tried myself here and there in the so-called spontaneous realism. Spontaneous realism ("sudden", "without deliberate consideration", "following an inner impulse" or "often surprising for the environment") is an art movement founded by the Austrian artist VOKA. I find the technique and the results incredibly exciting. And I love jazz music. During my studies at the university, I often worked in the evenings and at night as a waiter in a jazz club and met quite a number of prominent jazz musicians in person. By the way, Fats Navarro is not one of them, he died 3 years before I was born. I could imagine that I will do more portraits of jazz musicians in the future.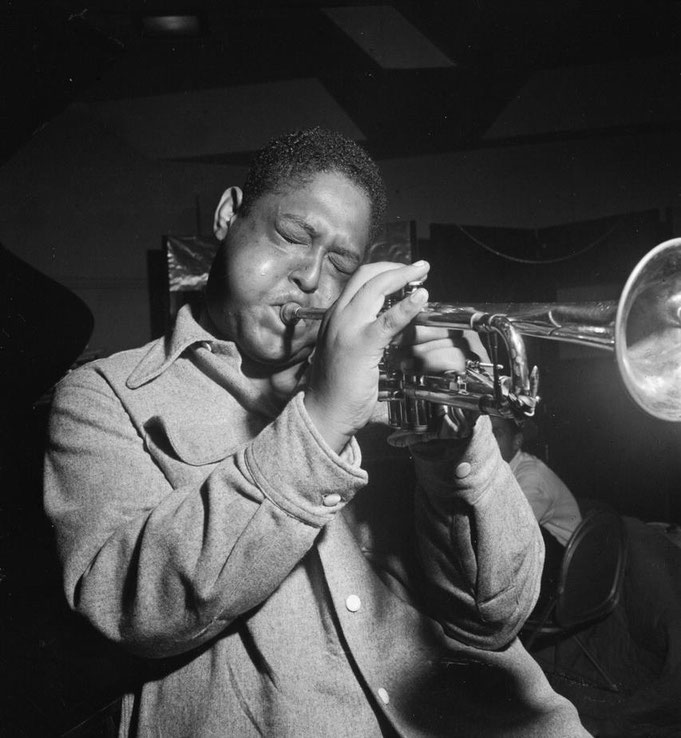 Das ist das Foto, dass mir als Vorlage für das Portrait gedient hat. Es zeigt Fats Navarro etwa 1947 und wurde von William P. Gottlieb aufgenommen.
This is the reference photo for the portrait. It shows Fats Navarro around 1947 and was taken by William P. Gottlieb.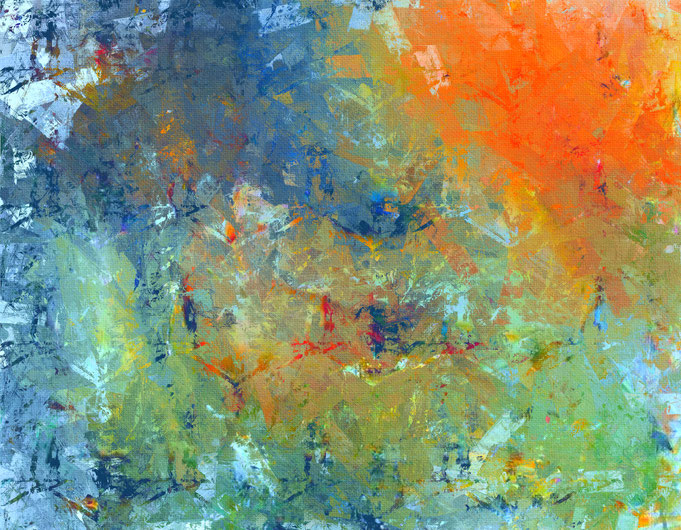 Begonnen habe ich damit, die Leinwand mit Farbe zu füllen, wobei ich nicht wirklich mit Überlegung vorgegangen bin, sondern spontan, rein nach Gefühl. Übrigens habe ich während des Malprozesses die Musik von Fats Navarro gehört. Möglicherweise hat das intuitiv den Malprozess beeinflusst.
I started by filling the canvas with paint, whereby I did not really proceed with deliberation, but spontaneously, purely by feeling. By the way, during the painting process I heard the music of Fats Navarro. This may have influenced the painting process intuitively.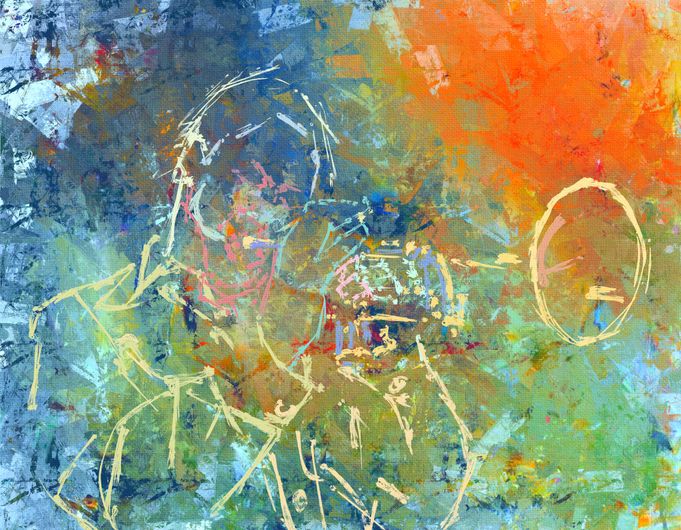 Hierauf habe ich dann eine grobe Skizze der wesentlichen Bildelemente, Körper, Gesichtszüge, Hände und Trompete angefertigt.
Then I made a rough sketch of the main picture elements, body, facial features, hands and trumpet.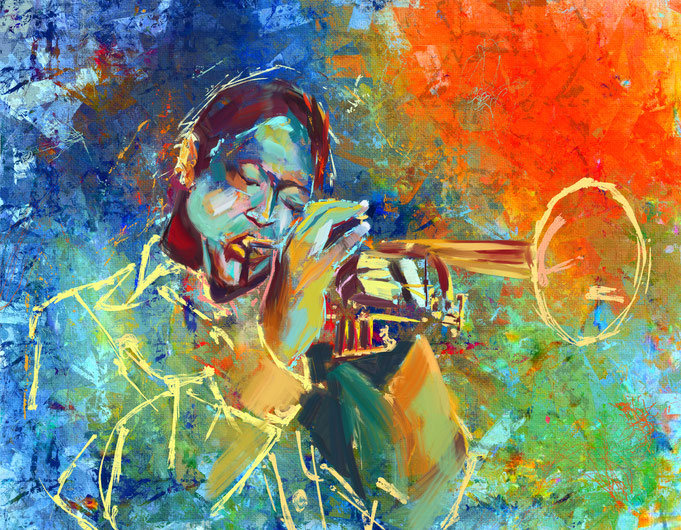 Und begann mit der Ausarbeitung...
And started working out the Details...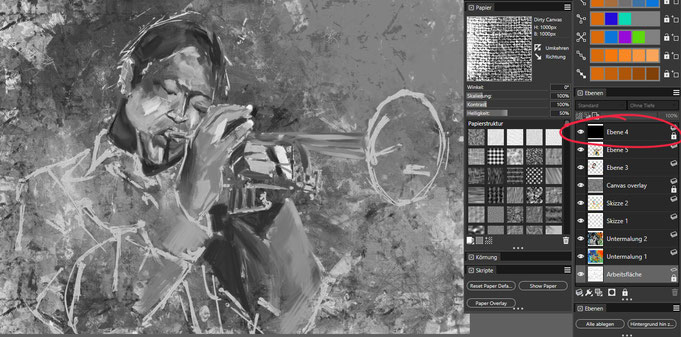 Dabei bin ich bei der Farbwahl immer nur der inneren Intuition gefolgt. Um so wichtiger ist dann die Kontrolle der Tonwerte, das heißt, der Verteilung der Hell- und Dunkelwerte der Farben. Das mache ich, indem ich zwischendurch immer mal wieder in den Schwarz-Weißmodus umschalte. Wie ich das mache hatte ich in meinem letzten Blog beschrieben.
In the choice of color, I have always followed only my inner intuition. The more important is then the control of the tonal values, that is, the distribution of the light and dark values of the colors. I do that by switching from time to time in the black and white mode. How I do this I described in my last blog.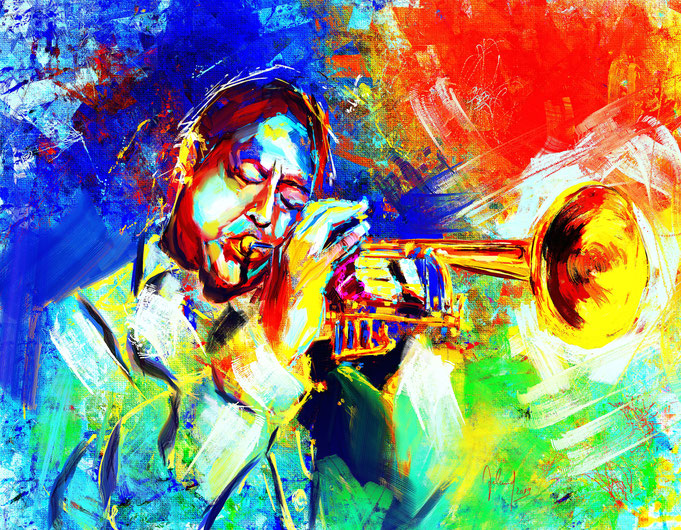 Tja, und irgendwann ist jedes Bild mal fertig, jedenfalls nach meinem Gefühl. Möglicherweise denke ich Morgen anders darüber...
Well, and at some point every picture is finished, at least according to my feelings. Maybe I'll think about it differently tomorrow ...