Ich habe an meinen Flachpinseln gebastelt, die ich in meinem ersten Blog vor einigen Wochen zum Download bereitgestellt habe. Ich habe die Einstellungen hier und da verfeinert und ein paar neue Pinsel hinzugefügt. Also ist es Zeit, ein Update bereit zu stellen:
I played around with my flat brushes, which I made available for download in my first blog a few weeks ago. I've refined the settings here and there and added a few new brushes. So it's time for an update:
Sie funtionieren in Painter 18 und höher. Bitte beachtet, dass Ihr jeden Pinsel auf Eure Bedürfnisse kalibrieren müsst. Ich habe die Pinselkalibrierung für jeden einzelnen Pinsel geändert, da ich die Standardeinstellungen an meine Bedürfnisse anpassen musste. Hier findet Ihr die Schritte, wie Ihr die einzelnen Pinsel kalibriert:
They will work in Painter 18 and above. Please note that you have to calibrate each brush to your needs because I have changed the brush calibration for each individual brush, because I had to adjust the default settings to my needs. Here you find the steps how you calibrate the individual brushes: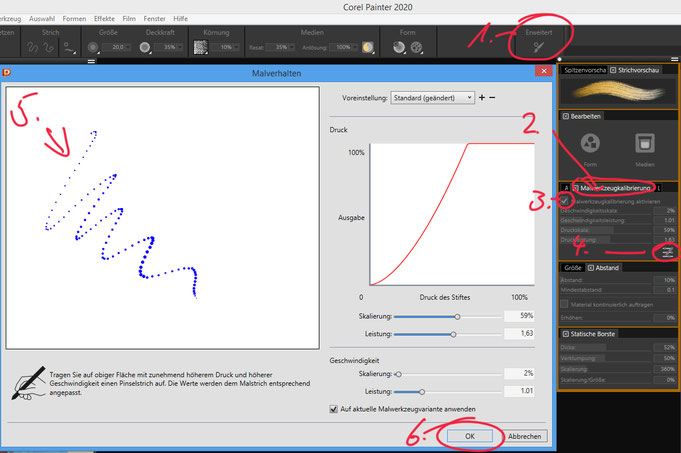 1. - auf erweiterte Malwerkzeugeinstellungen klicken
2. - Reiter Malwerkzeugkalibrierung auswählen
3. - Malwerkzeugkalibrierung aktivieren
4. - auf das Symbol klicken
5. - auf der Fläche links mit dem für Euch typischen Druck malen
6. - auf OK klicken
1. - click on advanced brush settings
2. - Select the Brush Calibration tab
3. - Activate the brush calibration
4. - click on the symbol
5. - paint on the surface left with the pressure that's typical for you
6. - click OK
Und nicht vergessen, die geänderte Variante zu speichern:
And do not forget to save the modified version: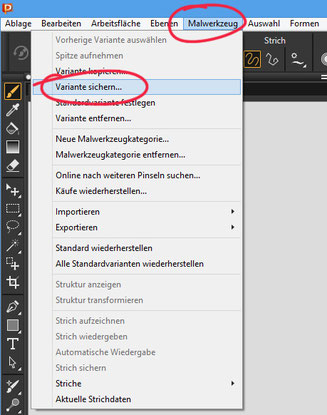 In dem nachfolgenden Dialog könnt Ihr entweder dem Pinsel einen anderen Namen geben (wenn Ihr die ursprüngliche Variante behalten wollt) oder die ursprüngliche Variante einfach überschreiben.
In the following dialog, you can either give the brush a different name (if you want to keep the original version) or just overwrite the original one.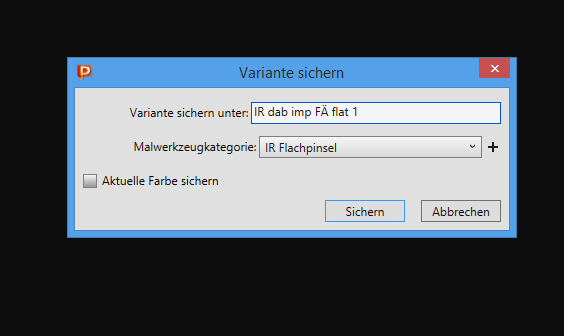 Und wenn ihr wollt, könnt ihr mich hier unterstützen:
And if you want to support me, you can do it here: