Mir passiert es häufig, dass ich ein Motiv habe, dass ich malen möchte, aber das Referenzfoto passt nicht zu meinen Vorstellungen. So war es auch mit dem Foto von Johannes Vloothuis, das mir für das Gemälde als Vorlage diente.
It often happens to me that I have a subject that I would like to paint, but the reference photo does not match my ideas. The same applies to the photo of Johannes Vloothuis, which served as a reference for the painting.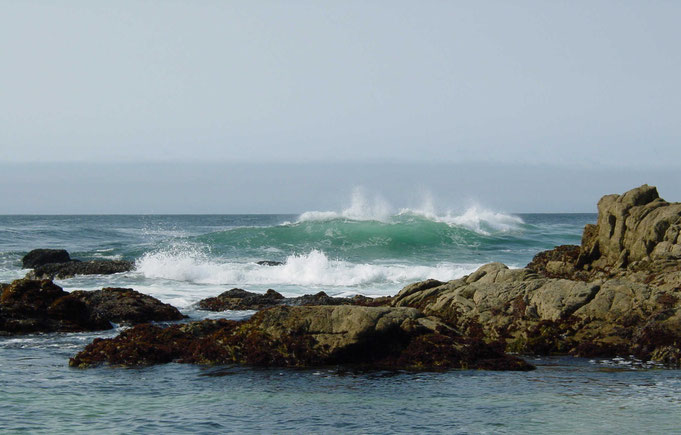 Eigentlich die perfekte Welle, die ich malen wollte. Auf dem Foto verliert sie sich jedoch in der Bedeutungslosigkeit. Des weiteren teilt die Horizontlinie das Bild in zwei gleich große Teile, kompositorisch nicht so toll. Auch wird der Weg des Betrachters ins Bild durch den geschlossenen Block der Felsen versperrt. Schließlich ist das Wasser im Vordergrund recht eintönig und langweilig. Es ist also einiges an der Bildvorlage zu ändern. Ich mache das indem ich direkt auf dem Foto male und die Komposition meinen Vorstellungen anpasse.
Actually the perfect wave that I wanted to paint. In the photo, however, it loses itself in insignificance. Furthermore, the horizon line divides the picture into two equal parts, not so great for the composition. The viewer's path into the picture is also blocked by the closed block of rocks. After all, the water in the foreground is rather monotonous and boring. So there is a lot to change about the picture. I do this by painting directly on the photo and adapting the composition to my ideas.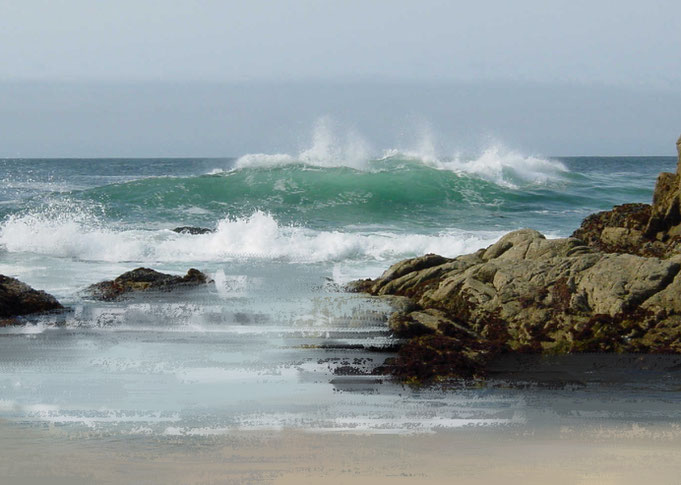 Und so sieht mein Referenzfoto nach der Bearbeitung aus: Zuerst habe ich das Foto ein wenig beschnitten und zwar so, dass die Horizontlinie im oberen Drittel des Bildes liegt und die Welle einen prominenteren Platz im Bild erhält. Dann habe ich einen Teil der Felsen übermalt, so dass eine Öffnung zum Meer und zum eigentlichen Hauptmotiv des Bildes entsteht. Schließlich will ich im Vordergrund Strand bzw. flaches Wasser haben, wo die Wellen auslaufen.
And this is what my reference photo looks like after editing: First, I cropped the photo a little so that the horizon line is in the upper third of the image and the wave gets a more prominent place in the picture. Then I painted over part of the rocks, creating an opening to the sea and to the main subject of the painting. Finally, I want to have beach or shallow water in the foreground, where the waves run out.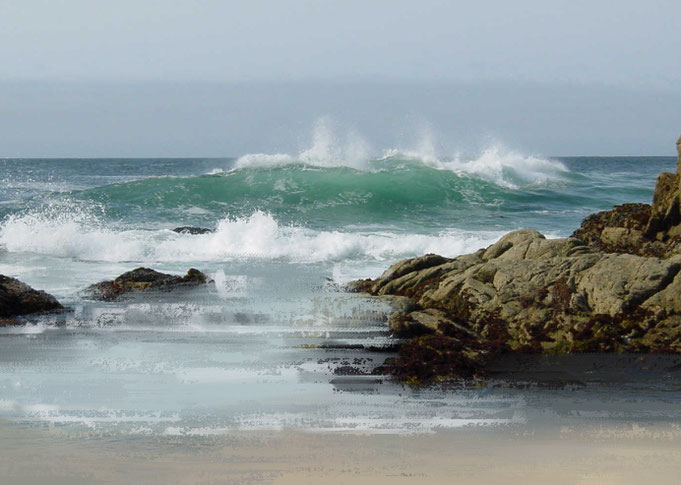 Eine grobe Vorzeichnung habe ich auf einer meiner digital hergestellten grundierten Leinwände erstellt. Diese Leinwände hatte ich bereits in einem früheren Blog zum Herunterladen zur Verfügung gestellt.
I have done a rough sketch on one of my digitally prepared canvases. I had already provided these canvases in a previous blog for downloading.
Der Rest ist die Ausarbeitung des Bildes, angefangen mit der groben Anlage der Farbflächen und der immer weiteren Verfeinerung der Farbtöne und der Details bis ich das Gefühl habe, dass Bild ist fertig.
The rest is work on the painting, starting with the coarse blocking in of the color planes and the further refinement of the colors and the details until I feel that the picture is done.