Nach den knallbunten Crazy Canvases nunmehr mal etwas subtilere Malgründe, die mit ihrer Textur hervorragend geeignet sind, einer digitalen Zeichnung das gewisse Etwas zu verleihen.
After the brightly coloured Crazy Canvases, here are some more subtle canvases, which with their texture are perfectly suited to give a digital drawing that certain something.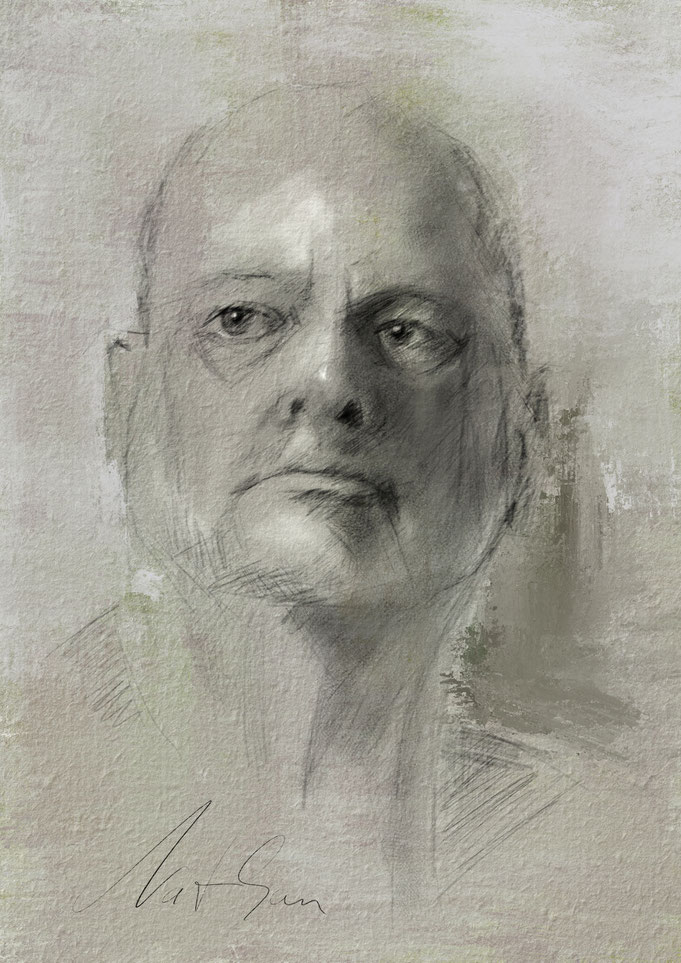 Dies ist einer meiner täglichen Zeichnungen, die ich Anfang September auf schlichtem weißem Grund gezeichnet hatte und die ich nunmehr im transparenten Gel-Montagemodus über eines der Papiere gelegt habe. Ich habe noch ein paar Higlights und paar dunklere Markierungen hinter dem Nacken angebracht, nur um einmal zu demonstrieren, was möglich ist.
This is one of my daily drawings, which I had drawn on a plain white background at the beginning of September and which I have now laid over one of the papers in transparent gel mode. I added a few highlights and some darker markings behind the neck, just to demonstrate what is possible.
Uns so sehen die Papiere aus - And this is what the papers look like: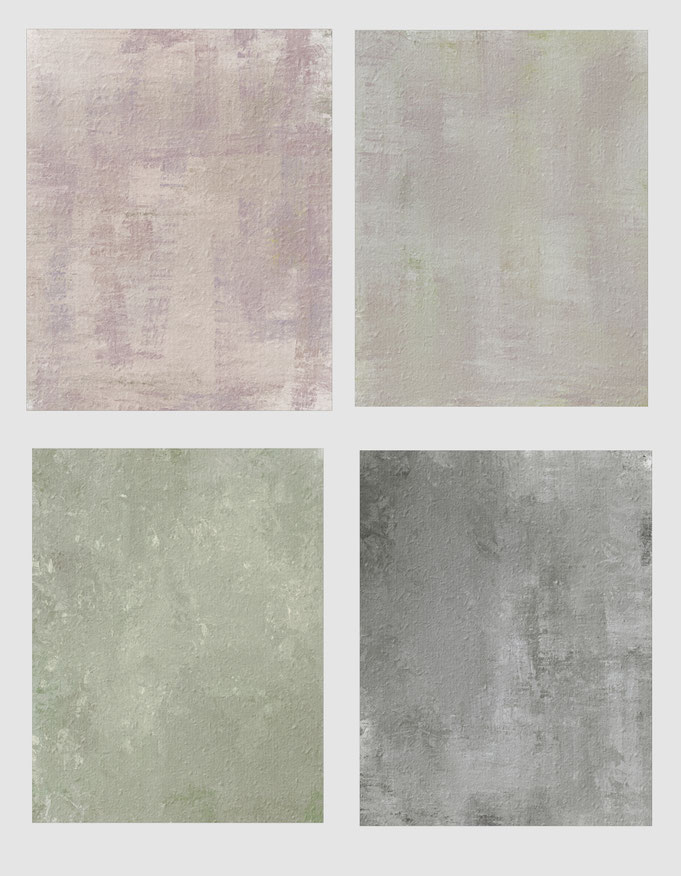 Ich habe diese Papiere in Corel Painter angefertigt, jedoch die Papiertextur aus Rebelle übernommen. Unten könnt ihr einmal die texturierten Malgründe als JEPG-Dateien direkt von dieser Seite herunterladen und zusätzlich die Riff-Dateien. Dabei werdet ihr auf meine Cloud geleitet, von wo ihr die Dateien herunterladen könnt. Den Umweg musste ich gehen, da hier von meiner Seite nur ein Download bis zu 100 MB möglich ist. Diejenigen, die Corel Painter nicht haben, könne  mit den Riff-Dateien nichts anfangen, da sie nur in Corel Painter geöffnet und bearbeitet werden können.
I made these papers in Corel Painter, but took the paper texture from Rebelle. Below you can download the textured backgrounds as JEPG files directly from this page and also the riff files. For the Riff files you will be redirected to my cloud, from where you can download the files. I had to take this diversions because only a download of up to 100 MB is possible from my site. Those who do not have Corel Painter will not be able to use the riff files, as they can only be opened and edited in Corel Painter.
Die JEPG-Dateien wie auch die Riff-Dateien können weiter bearbeitet und beliebig verändert werden, so dass letztlich unendliche Möglichkeiten bestehen, diese vier Hintergründe zu verändern. Spielt einfach mal mit den Reglern des Malgrund-Panels in Corel Painter:
The JEPG files as well as the Riff files can be further edited and changed at will, so that ultimately there are infinite possibilities to change these four backgrounds. For example, just play with the sliders of the underpainting panel in Corel Painter:
Textured Drawing Papers
Diese Zip-Datei enthält die JEPG-Dateien der Papiere. - This zip file contains the JEPG files of the papers.
Textured Drawing Papers JEPG.zip
Komprimiertes Archiv im ZIP Format
60.0 MB
Und hier ist der Link zu meiner Cloud, von wo aus die Riff-Dateien heruntergeladen werden können:
And here is the link to my cloud from where the Riff files can be downloaded:
Und über eine Spende freue ich nätürlich immer - And of course I am always happy about a donation.