Traditionell würde man nicht so arbeiten: Zunächst Ölfarben auftragen und anschließend mit Aquarellfarben überarbeiten. Das Ergebnis wäre katastrophal. In der digitalen Malerei spielen die chemischen und physikalischen Gesetzte in diesem Fall keine Rolle. Hier kann man unbesorgt die unterschiedlichsten Medien miteinander mischen. Und wenn man dies in Rebelle 5 tut, wird man mit erstaunlichen Texturen belohnt:
Traditionally, one would not work like this: First apply oil paints and then work over them with watercolours. The result would be disastrous. In digital painting, the laws of chemistry and physics do not play a role in this case. Here, one can mix the most diverse media with each other without any worries. And if you do this in Rebelle 5, you will be rewarded with amazing textures:
Zum Vergrößern einfach ein Bild anklicken - Simply click on a image to enlarge.
Das Prozedere ist ganz einfach: Erst Ölfarben auftragen und dann auf derselben Ebene Aquarellfarben und dann zusehen was passiert. Auf meinem YouTube Kanal gibt es ein kleines Video dazu:
https://www.youtube.com/watch?v=1pYzJJxLrXM
The procedure is absolutely simple: first apply oil paints and then watercolours on the same layer and watch what happens. There is a short video on my YouTube channel:
https://www.youtube.com/watch?v=1pYzJJxLrXM
Für bessere Ergebnisse hier ein Hinweis zu den Einstellungen in den "Visual Settings":
Die Werte für "Re-Wet" und "Texture Influence" sollten recht hoch sein.
For better results, here is a note on the settings in the "Visual Settings":
The values for "Re-Wet" and "Texture Influence" should be quite high.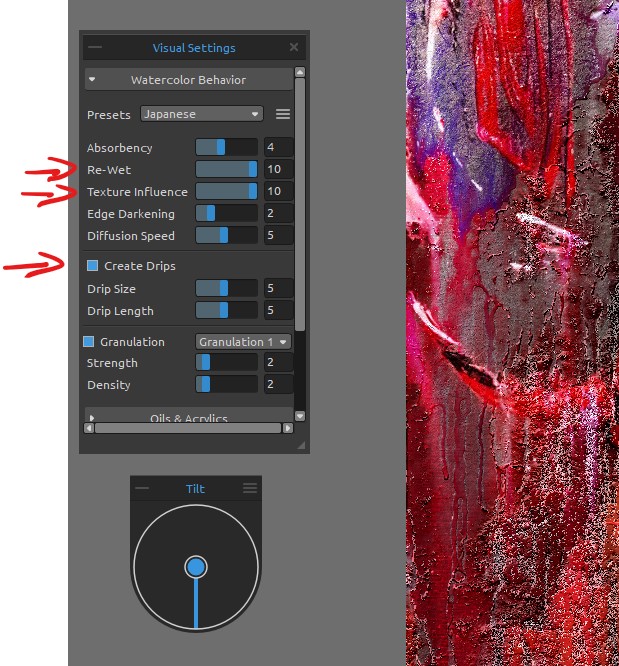 Und vergesst nicht mit dem "Tilt" zu spielen, ich mag es lange Drips zu erzeugen. Probiert auch mal unterschiedliche Papiestrukturen. Auch die Dicke der Ölfarbe beeinflusst das Fließverhalten. Einfach ausprobieren.
And don't forget to play with the "tilt", I like to create long drips. Also try different paper structures. The thickness of the oil paint also influences the flow behaviour. Just try it out.
Wenn euch die abstrakten Gemälde oben gefallen, könnt ihr sie gerne in Originalgröße nachfolgend herunterladen, entweder um sie euch auszudrucken und an die Wand zu hängen oder um sie als Crazy Canvases in eigenen Bildern zu verwenden.
If you like the abstract paintings above, feel free to download them in their original size below, either to print out and hang on your wall or to use as Crazy Canvases in your own paintings.
Organic 1, 2, 3 and 4
4 JEPG- Dateien in hoher Auflösung - 4 JEPG files in high resolution
Organic.zip
Komprimiertes Archiv im ZIP Format
72.0 MB
Und ich freue mich natürlich über jede Spende!
And of course I am happy about every donation!