Gelegentlich schaue ich anderen Künstlern beim Malen über die Schulter. Auf YouTube gibt es unzählige Videobeiträge, mal längere, mal kürzere, die sehr inspirierend sein können. Die East Oaks Studios - https://www.eastoaksstudio.com/ - haben in den letzten Monaten mehrere längere Life Sessions produziert, in welchen in der Regel 3 Künstler über 3 Stunden dasselbe Motiv aus verschiedenen Blickwinkeln malen und sich dabei über alles Mögliche unterhalten (in der Regel haben die Themen was mit Kunst und Maltechnik zu tun). Ich finde diese Life Sessions sehr informativ und unterhaltsam und lerne dabei sehr viel. Freundlicherweise stellen die East Oaks Studios auf Ihrer Webseite Referenzfotos des Motivs jeweils gemacht aus den Blickwinkeln der 3 Künstler zur Verfügung, so dass man entweder live mitmalen kann oder sich zu einem späteren Zeitpunkt an dem Motiv versuchen kann.
Hier habe ich mich mit dem Portrait von Henna aus Session 7 beschäftigt, die vor ca. 2 Wochen gesendet wurde. Das besondere an dieser Session war, dass die drei Künstler jeweils mit unterschiedlichen Medien arbeiteten, einer mit Grafit, einer mit Kohle und einer mit Ölfarbe.
_______________________________
Occasionally I look over the shoulders of other artists while they are painting. On YouTube there are countless video posts, sometimes longer, sometimes shorter, which can be very inspiring. The East Oaks Studios - https://www.eastoaksstudio.com/ - have produced several longer Life Sessions in the last few months, in which usually 3 artists paint the same subject from different angles over 3 hours and talk about all sorts of things (usually the topics have something to do with art and painting technique). I find these Life Sessions very informative and entertaining and I learn a lot. The East Oaks Studios are kind enough to provide reference photos of the subject on their website, each taken from the perspective of the 3 artists, so that you can either paint along live or try your hand at the subject at a later time.

Here I have dealt with the portrait of Henna from Session 7, which was broadcasted about 2 weeks ago. The special thing about this session was that the three artists each worked with different media, one with graphite, one with charcoal and one with oil paint.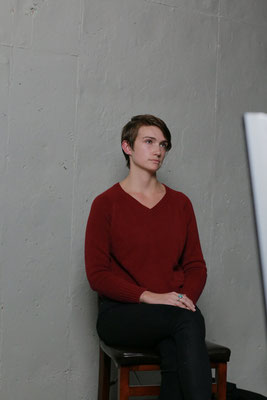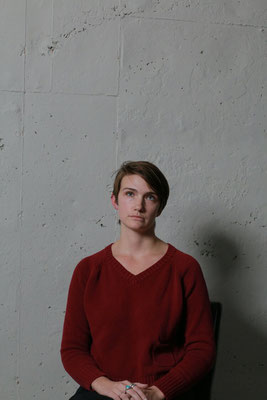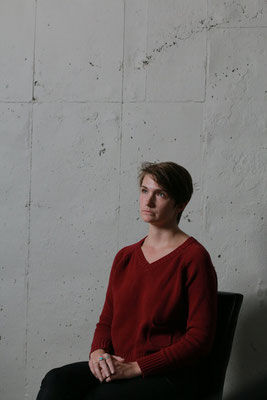 Meistens mache ich zu Beginn eine mehr oder weniger ausgearbeitete Skizze von dem, was ich malen möchte. Die Tatsache, dass hier im Video die Künstler mit unterschiedlichen Medien arbeiteten, hat mich dazu animiert, eine voll ausgearbeitete Bleistiftzeichnung (natürlich digital) anzufertigen. Ich hatte dazu zuerst die Frontalansicht und dann noch einmal das Halbprofil von rechts ausgewählt.
Zum Vergrößern können die Bilder angeklickt werden.
________________________________________
Usually at the beginning I make a more or less elaborated sketch of what I want to paint. The fact that here in the video the artists worked with different media encouraged me to make a fully elaborated pencil drawing (digital of course). I had first selected the frontal view and then the half profile from the right.
To enlarge the pictures you can click on them.
Diese Portraitstudien mit Bleistift waren für das spätere Portrait sehr hilfreich, da ich dort ziemlich genau die Verteilung der Tonwerte nachvollziehen konnte. Auch das Modell aus verschiedenen Blickwinkeln zu portraitieren hat mir ein Gefühl für die Dreidimensionalität gegeben und war für das anschließende Portrait in ÖL (auch das selbstverständlich digital) eine große Hilfe.
Auf einer digital vorbereiteten getönten Leinwand habe mit einem dünen Pinsel die wesentlichen Proportionen und Gesichtszüge festgehalten und anschließend mit "dünner Farbe" die Verteilung der Tonwerte angelegt.
Ich habe die Form des Tops, das das Modell trug ein wenig geändert,. Ich glaube, dass der Betrachter dadurch eleganter ins Bild geführt wird. Der V-Ausschnitt des Pullovers war irgendwie wie eine Sperre.
________________________________________
These portrait studies with pencil were very helpful for the later portrait, because I was able to reproduce the distribution of the tonal values quite exactly. Portraying the model from different angles also gave me a feeling for the three-dimensionality and was a great help for the subsequent portrait in oil (also digital, of course).

On a digitally prepared tinted canvas I captured the essential proportions and facial features with a thin brush and then applied "thin paint" to establish the tonal values.
I changed the shape of the top that the model was wearing a little. I think that it leads the viewer more elegantly into the painting. The V-neck of the sweater was kind of like a barrier.
Wie ich dabei vorgehe, den Effekt von magerem und fetten Farbauftrag, wie er in der traditionellen Ölmalerei üblich ist, digital nachzuempfinden, hatte ich bereits in meinem Blog vom 17.08.19 - Die Entstehung eines digitalen "Ölgemäldes" - ausführlich erläutert. Hier könnt ihr das Procedere noch einmal als PDF herunterladen.
____________________________________
How I proceed to digitally recreate the effect of lean and rich color application, as it is common in traditional oil painting, I had already explained in detail in my blog from 17.08.19 - The creation of a digital "oil painting". Here you can download the procedure again as PDF.
In der weiteren Ausarbeitung male ich überwiegend mit "fetter" Farbe, das heißt, an der Spitze der Ebenenhierarchie.
_____________________________________
In the further elaboration I paint mainly with "bold" color, that means at the top of the level hierarchy.
Bis ich dann wieder meine, dass das Bild fertig ist.
______________________________________
Until I think the painting is finished.