So unterschiedlich Landschaftsbilder auch aussehen, der Weg, wie ich zu einem fertigen Bild komme ist jedoch meist ähnlich. In meinem letzten Blog Making of Winterly Creek and Organic Canvases for Download habe ich beschrieben, wie ich aus einem abstrakten Muster eine Fantsie-Winterlandschaft entwickelt habe. Das ist ein Weg, den ich gelegentlich gehe. Meist jedoch ist ein Referenzfoto der Ausgangspunkt für ein Landschaftsgemälde.
As different as landscape paintings look, the way I come to a finished painting is usually similar. In my last blog, Making of Winterly Creek and Organic Canvases for Download, I described how I developed a fantasy winter landscape from an abstract pattern. This is a path I occasionally take. Mostly, however, a reference photo is the starting point for a landscape painting.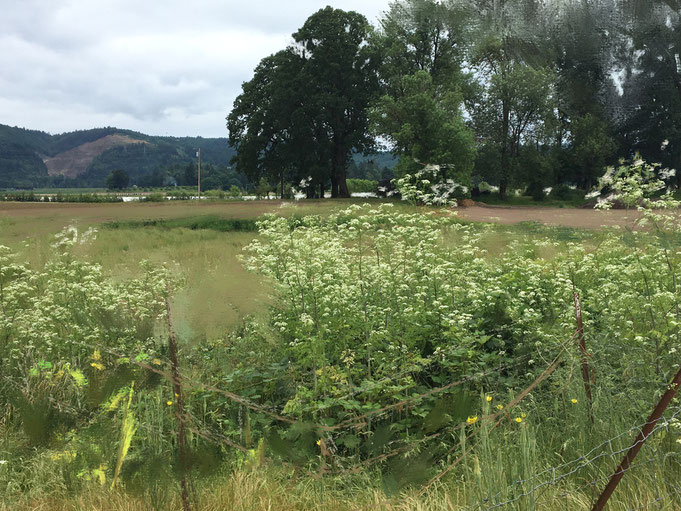 Das Foto hat freundlicherweise Jacob Aguir zur Verfügung gestellt. Jacob ist ein amerikanischer Landschaftsmaler, der vorwiegend mit Pastellkreiden arbeitet. Ich habe direkt auf dem Foto einige kompositorische Änderungen vorgenommen. So habe ich das Meer der Blüten, was fast bis in das obere Drittel des Bildes reicht, reduziert, so dass mehr von dem brach liegenden Feld im Mittelgrund zu sehen ist, insbesondere auf der linken Seite, wodurch dem Betrachter eine Möglichkeit zum Einstieg in das Bild gegeben wird. Die Andeutung eines verfallenen Maschendrahtzaunes in der äußersten rechten unteren Ecke, wollte ich über den gesamten Vordergrund thematisieren. Schließlich habe ich oben rechts die Baumkronen, die auf dem Foto unterhalb des Bildrandes endeten, über den Bildrand hinaus gezogen.
The photo was kindly provided by Jacob Aguir. Jacob is an American landscape painter who works mainly with pastels. I made some compositional changes directly on the photo. For example, I have reduced the sea of flowers, which extends almost into the upper third of the image, so that more of the fallow field in the middle ground is visible, especially on the left-hand side, giving the viewer a way to enter the image. The suggestion of a broken down chain-link fence in the far lower right corner, I wanted to theme across the entire foreground. Finally, in the top right corner, I pulled the tree tops, which ended below the edge of the picture in the photo, beyond the edge of the picture.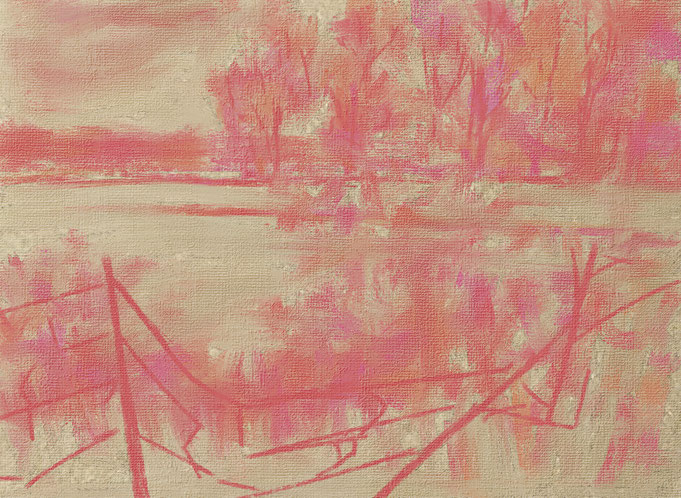 Auf einem in einem Ockerton eingefärbten Leinwandgrund habe ich eine grobe Skizze angefertigt, bei der ich mich im wesentlichen nur auf Formen und Hell-/Dunkelwerte konzentriere. Hierbei benutze ich besonders bei Landschaften einen pinkfarbenen Ton, der im fertigen Bild an einigen Stellen durchscheinen wird. Das macht besonders Bilder mit viel Grüntönen lebhafter.
On a canvas background coloured in an ochre tone, I have made a rough sketch, concentrating essentially only on shapes and light/dark values. Here I use a pink tone as I use often for landscapes, which will show through in some places in the finished painting. This makes especially pictures with a lot of green tones more vivid.
Dann arbeite ich mich vom Hintergrund in den Vordergrund und lege die ersten Farbtöne an, die im weiteren immer wieder überarbeitet werden.
Then I work my way from the background into the foreground and apply the first colour tones, which are revised again and again as I go along.
Zum Vergrößern bitte anklicken - Please click to enlarge
Zum Schluss setze ich noch einige Akzente und bearbeite einige Details.
Finally, I add some accents and edit some details.